Who We Are
The Clairemont Repeater Association is more than just a community of individuals interested in amateur radio. Our community includes many adventure enthusiasts united by a love of the great outdoors, enjoying activities such as hiking, trail running, biking, camping, fishing, and off-roading. We blend the wonders of outdoor exploration with the limitless potential of amateur radio communication.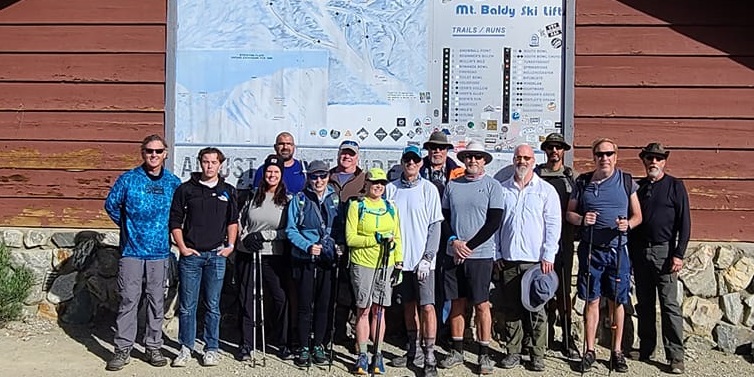 More pics
If you are a kindred spirit, join us for an exhilarating journey of discovery, camaraderie, and adventure. Become a member.
Our Repeaters
The CLARA repeaters are privately owned and operated by the Clairemont Repeater Association, a non-profit corporation and family-oriented organization. The repeaters are located at 5,730 feet on top of Santiago Peak, which is located approximately 23 miles East of Santa Ana. We have excellent coverage over most of Southern California--south to the border of Mexico, north to the fringes of Santa Barbara, and as far east as Victorville and Banning.
Currently, we operate two repeaters on Santiago Peak: a 145.220 Mhz and a 1.2 Ghz. The 1.2 Ghz repeater is open only to Members and Associates. We also have a repeater on 145.220 Mhz in the Barstow area covering the high desert, which we plan to link with Santiago Peak in the future.
Although the 145.220 Mhz Santiago Peak repeater is listed as a closed repeater in the repeater guides, visitors are welcome to use it for short calls and QSOs. We ask that all users practice courteous and considerate operating procedures. CLARA is always known for passing emergency or priority traffic.
Mission
We are committed to fostering a culture of responsible communication, prioritizing emergency response, and upholding the values of courtesy and respect within our community. As a family-oriented organization, we take pride in the ownership and operation of the Clairemont repeater, which stands as a vital link for communication and safety in Southern California, as well as a conduit to meet others with similar interests and form lasting friendships.
Emergency First
Our foremost priority is to serve as a reliable platform for emergency communication, offering assistance and support to those in need. In times of crisis, communication is key, and the CLARA repeater acts as a lifeline, connecting individuals across distances to ensure that vital information reaches the right hands swiftly and efficiently.
Upholding Courtesy and Consideration
We emphasize the importance of courteous and considerate operating procedures to foster a harmonious environment. We encourage all users of our repeater to engage in respectful interactions, treating fellow operators with kindness and understanding.
More Pics